There's no product like MaestroConference Video
For virtual meeting hosts who want to give their participants the chance to share their voice, connect with others, accelerate learning, or collaborate - by leveraging breakouts and interactivity. If you missed it there is a (long!) list of features that MaestroConference Video has, that Zoom does not. Check out our MaestroConference Vs. Zoom Comparison.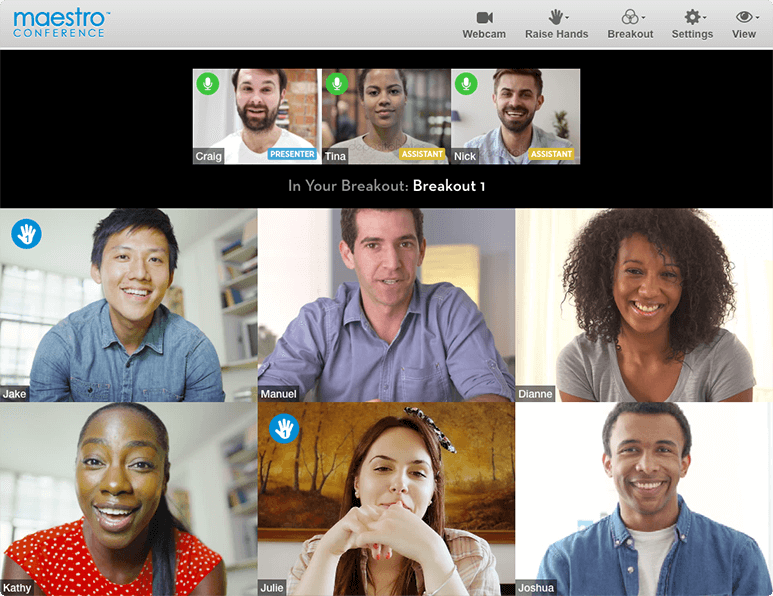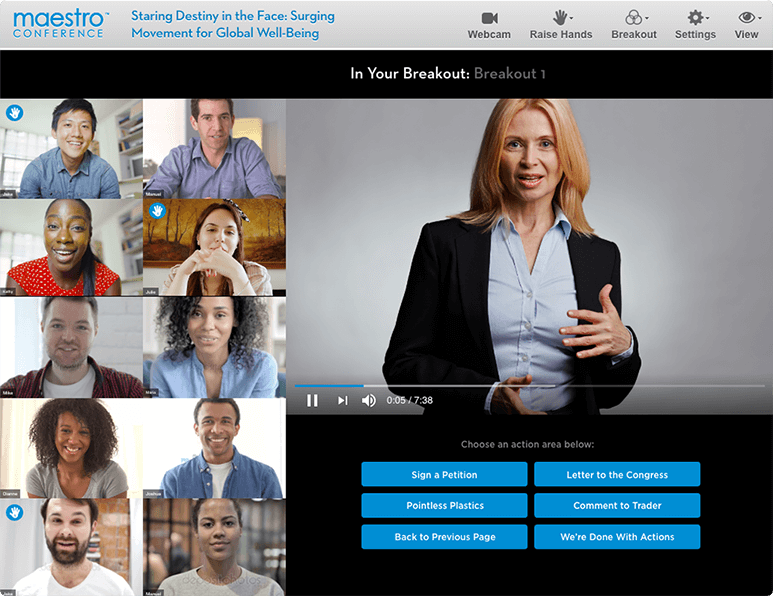 Our current feature set is just the beginning
As an agile company with a narrow focus, we build for interactivity with breakouts and integrated activities during virtual meetings. And we keep moving forward - we have released new features based on customer feedback every single month for many years now. And believe me - to guide the work for our engineers we'll be listening to our early subscribers most of all.
GET JUMBO MC FREE TRIAL
Jumbo MC Launch Special $150 $67/mo
30-day free trial, then 55% off
First 500 subscribers only
To take away any risk, we're offering a 30-day free trial
We understand that no matter how powerful it is, any new technology has to work for your situation, and work reliably. We're proud to have become the reliable technology product and services partner to global organizations, and our platform regularly host some of the foremost political leaders, brands, and associations globally. And no matter the size of your organization, we know that your participants are vitally important to your success. So try the new platform with your team and participants, see what they think and how they enjoy the new video breakouts.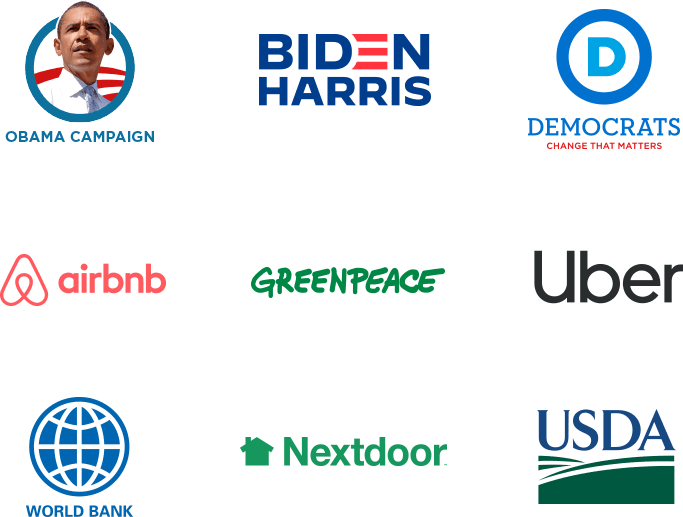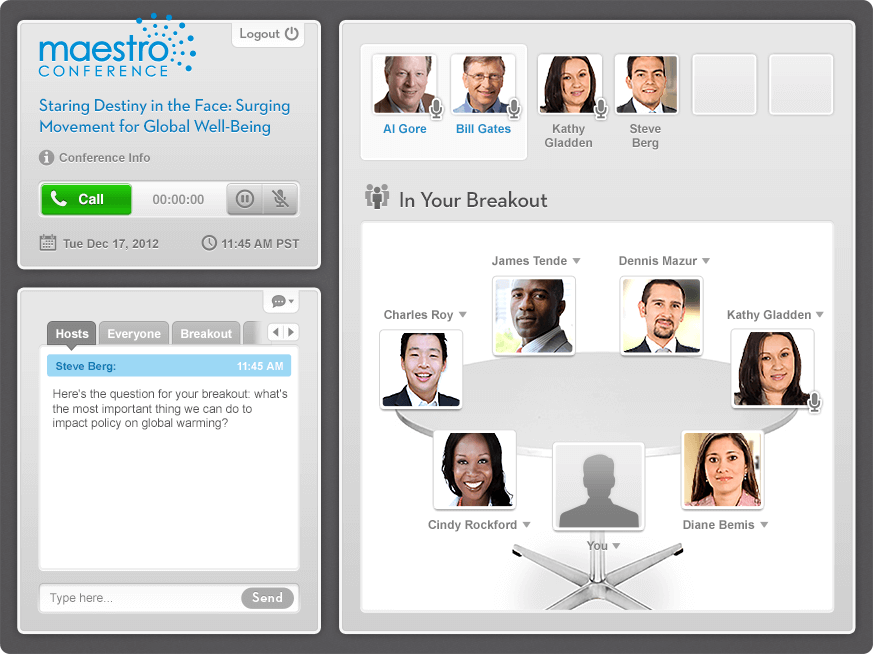 Clear, reliable connection, even when your participants have low bandwidth
Our platform gives special priority to your participants' audio channel. So unlike other platforms where video glitches and poor video connections interfere with and disrupt the essential conversation, MaestroConference enables your participants to stay connected to your events through the rock-solid MaestroConference audio platform as part of all video meetings. This means if you or one of your speakers has a poor connection or slow computer, your ability to actually talk, listen and lead could continue uninterrupted.
GET JUMBO MC FREE TRIAL
Jumbo MC Launch Special $150 $67/mo
30-day free trial, then 55% off
First 500 subscribers only
Not a commodity product like Zoom
MaestroConference Video is not intended to be a "commodity" product like Zoom, but a highly powerful and feature-rich solution for those people who engage their networks with trainings, facilitated interactive sessions, virtual conferences, meet-ups and other engaging virtual event formats. And MaestroConference Video's highly flexible, robust breakout capabilities are unsurpassed - we even have someone putting together a dating application powered by a highly specific algorithm integrated with our flexible logic rules for creating breakouts. No other company has specialized for 8+ years in breakout conferencing like MaestroConference has (ours was one of the first platforms to introduce the virtual breakout concept), so of course our feature set for breakouts is far ahead of any other solution on the market.
We're price competitive
Given the depth, flexibility, versatility of our video breakout capability for uniquely engaging and interactive virtual events, we could surely choose to charge "enterprise pricing" for such a product - we've opted not to. In fact, given the many add-on options that Zoom and other platforms charge extra for, we're actually price competitive (see the table below for a breakdown).
And on top of that, for the MaestroConference Video Launch-Only Special, we're including a whole suite of extra features at no additional charge that we do not plan to include with regular subscriptions after the launch.
Why are we limiting the number of discounted subscriptions at launch?
Honestly, this is how we launched the original MaestroConference platform 10+ years ago, and it worked really well. Limiting the number of first customers gave us an enthusiastic group of early users to dive in and give us feature requests that we could actually respond to (rather than be overwhelmed with more requests than we could deliver on), which helped us to build based on real customer needs rather than build what we think our customers want/need.
And we have kept people at their launch pricing even after our public plan pricing increased - and indeed we have included new products when we launched them at no added cost. And these early customers not only jumped into the platform and started hosting events quickly, which gave us a solid base of dependable revenue, but many of them have stayed with us - for upwards of 10 years now. So that's a privilege, to have earned their long-term trust. And we're doing that again with this, our biggest product launch ever, the highly anticipated release of the all-new MaestroConference Video.
Will you join us?
Want to try it for yourself with a 30-day free trial + lock in the launch-only pricing?
We'd love to have you join the early launch group, limited to the first 500 subscribers.
GET JUMBO MC FREE TRIAL
Jumbo MC Launch Special $150 $67/mo
30-day free trial, then 55% off
First 500 subscribers only
As bonuses, we're including:
Guided Breakouts - an absolute game changer if you want your breakout groups to be engaging and productive (and absolutely no other platform offers this- guaranteed)
Unlimited audio events as well as the included video conferencing
No-Host, Autonomous Guided Breakouts - invite groups to get your guidance/structure without you attending ( allow participants to schedule themselves, and/or have community-specific conversations)
Call and email support, including 1-1 training sessions when needed
30-day free trial, cancel at any time
We hope you'll join us as a founding subscriber.
Zoom vs. MaestroConference Plan Comparison
Feature
Zoom Meetings
$15
Zoom Webinar
$55
Regular MC
$75
Advanced MC
$100
Jumbo MC Launch Special
$150 $67
Regular Video Meetings
Screenshare
Collaborative Docs in Breakouts
Random Breakouts
Handmade Breakouts
Custom Preset Breakouts
Poll/Survey-Based Breakouts
Host Can Use Custom Registration or API to Create Breakouts

No-Host, Autonomous Guided Breakouts (the "VoiceVoice" Platform)

For your audience who cannot attend your live event, our Guided Breakouts can be autonomous (fully standalone), without the host attending, and take place any time, even the day (or week, month or year) after the live event is over.

With No-Host, Autonomous Guided Breakouts, hundreds or thousands of people can have productive conversations without the host needing to participate and facilitate the breakout groups, so your organization can deeply engage groups of people on their own schedule (24/7) without requiring a host to attend and lead every event. Learn more about No-Host, Autonomous Breakouts

Host Can Speak Into Breakouts via Written Text
Sorta

Zoom does allow you as host to send chats to the breakouts, but hosts and participants alike frequently complain that the messages are faint and quickly disappear, so are missed. With MaestroConference, breakouts aren't an afterthought, and we make sure host messages are visible.

Sorta

Zoom does allow you as host to send chats to the breakouts, but hosts and participants alike frequently complain that the messages are faint and quickly disappear, so are missed. With MaestroConference, breakouts aren't an afterthought, and we make sure host messages are visible.

Host Can Speak Into Breakouts Via Audio
Host Can Speak Into Breakouts Via Video
Host can take live video questions from all attendees
Host control - host can turn on/off individual mics
Host Can Chat with Everyone Even During Breakouts
Host/Co-Host Can Move Participants Between Breakouts
Participants Can Choose Their Own Breakouts
(?)
Anyone Can Be Given Privilege to Move Participants Between Breakouts
Simple Option to Reshuffle Breakouts With All New Participants
Host Can Combine Breakouts
Silently/Invisibly Monitor Breakouts
"Walk The Room" Between Breakouts

Guided Breakouts

The crowning jewel for engaging many parallel small groups, our patent-pending Guided Breakouts (which no other platform offers) can be used to guide each breakout group through a sequence of questions, activities, or video instructions as designed and programmed by the host in advance. So, no more "what was the question again?" in your participant breakouts. Learn more about Guided Breakouts

No-Host, Autonomous Guided Breakouts

For your audience who cannot attend your live event, our Guided Breakouts can be autonomous (fully standalone), without the host attending, and take place any time, even the day (or week, month or year) after the live event is over.

With No-Host, Autonomous Guided Breakouts, hundreds or thousands of people can have productive conversations without the host needing to participate and facilitate the breakout groups, so your organization can deeply engage groups of people on their own schedule (24/7) without requiring a host to attend and lead every event. Learn more about No-Host, Autonomous Breakouts

List Price
$15
$55
$75
$100
$150

$67
Jumbo MC Launch Special Details
Launch Special

Limited to first launch subscribers

$150

$67

/month
Free Trial
30 days free, cancel at any time
Unlimited Free Events
Up to 50 participants

Max Event Size

By default, you can host up to 250 total participants during any given event, whether they are on video or audio; for larger events, call us. Non-video events can accommodate up to 5000 participants (potentially millions more).

250 participants
Max Event Size > 250 participants
Call Us

+1-877-414-1515

Pricing for Overages (After First 50 Participants):
When you exceed your participant limit you have three options (we'll automatically switch you to the cheapest one):



Pay $1 per extra participant
Upgrade to Unlimited Events Up To 100 ($150/month)
Upgrade to Unlimited Events Up To 250 ($300/month)

First 50 participants in any given event are included for free (plan includes free, unlimited 50-person events). For those events when you have more than 50 participants, you can either pay $1 for each additional participant over 50, OR upgrade to a plan with free, unlimited 100- or 250-person events (we'll automatically move you to the most cost effective option).

$1 per participant
or upgrade plan

Free Unlimited Participants for Qualified Partners

Organizations that qualify for our partner program can host unlimited participants for free. To qualify, your events must be public or comprise mostly new attendees (e.g. recurring events are excluded), with MaestroConference branding included (e.g. post-event email, marketing message during registration). Partner program is subject to change (with advanced notice).

Call Us

+1-877-414-1515

Guided Breakouts

The crowning jewel for engaging many parallel small groups, our patent-pending Guided Breakouts (which no other platform offers) can be used to guide each breakout group through a sequence of questions, activities, or video instructions as designed and programmed by the host in advance. So, no more "what was the question again?" in your participant breakouts. Learn more about Guided Breakouts

Unlimited

No-Host, Autonomous Guided Breakouts (the "VoiceVoice" Platform)

For your audience who cannot attend your live event, our Guided Breakouts can be autonomous (fully standalone), without the host attending, and take place any time, even the day (or week, month or year) after the live event is over.

With No-Host, Autonomous Guided Breakouts, hundreds or thousands of people can have productive conversations without the host needing to participate and facilitate the breakout groups, so your organization can deeply engage groups of people on their own schedule (24/7) without requiring a host to attend and lead every event. Learn more about No-Host, Autonomous Breakouts

First 50 participants included free ($0.50 - $1/participant thereafter)

White Label

The white label version of the MaestroConference platform puts your branding and logo front and center on your events (e.g. registration pages, email reminders, etc.). Replace the MaestroConference logo and branding with your own logo; turn off MaestroConference marketing emails or replace with your own post-event email.

Call Us

+1-877-414-1515

Current Subscribers
Add $50 to your plan
GET JUMBO MC FREE TRIAL
Jumbo MC Launch Special $150 $67/mo
30-day free trial, then 55% off
First 500 subscribers only